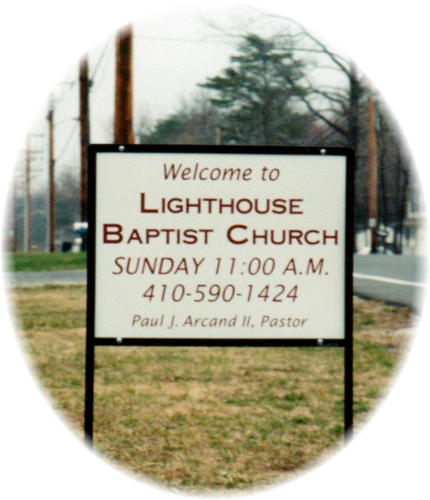 Lighthouse Baptist Church
Founded: April 1, 2001
Obeying the call of God, Pastor Arcand and his wife moved to the Baltimore region and started Lighthouse Baptist Church of Pasadena, Maryland. On April 1, 2001, the first service was held at the Armiger Fire Hall in Pasadena, Maryland with 61 people in attendance. On August 26, 2001, the church was chartered with 50 official members. Each week the Lord continued to bless as souls were being saved and people's lives were being changed. The days in the "old fire hall" were exciting days, but more exciting days were to come as God led them to a more permanent location.
In 2003, Lighthouse Baptist Church began meeting in a storefront at Lipins Corner in Pasadena. God continued
to bless and the need for more space became necessary to accommodate the services and activities of the congregation. The church began to rent more storefront units as they became available, and soon they were spread out from one end of Lipins Corner to the other.
In 2016, the Lord led Lighthouse Baptist Church to a building that was for sale on Ritchie Highway in Severna Park, Maryland. Much work would need to take place to make this building a church home, but believing that God was leading them to "Go Forward" (Exodus 14:15), Pastor Arcand and the people of Lighthouse Baptist Church moved by faith to purchase this property. "Go Forward" became the church's theme, and seven months later on May 3, 2017, after much prayer, Lighthouse Baptist Church held its first service in this beautiful new facility.
Today, Lighthouse Baptist Church continues to be a beacon of light to its community and beyond by lifting up the name of Jesus Christ. At Lighthouse, the future is bright and we believe the best is yet to come!